My last post about Fall Fashion focused on the unused items in my closet. Today I'm looking at the trends and elements I'd like to try this autumn and winter. As usual, I am not constrained by the limits of good taste.
Some trends I'd like to try this fall are:
Chenille rocking a fierce
equestrian look.
Menswear: I'm a sturdy woman, and I feel like I need to walk a fine line with clothes that are overly masculine or overly feminine. I'm lusting over a few of the menswear pieces from eShakti because they balance menswear elements with feminine cuts. I refuse to wear any but the most abstractly masculine shoes. If I put men's-style shoes on my size 11 feet I just feel like a cross dresser.
Baroque: I love the ornate, over-the-top look of Baroque styles in magazines this fall. I'll be experimenting with ways to make the style fit my day-to-day style while still staying ornate and over the top.
Equestrian: I've always loved the equestrian aesthetic, in part because of how I loved horses as a child, and in part because it's a look my mom has always favored. I want to explore how this classic style can be incorporated into my wardrobe... at the right price, of course.
Image Credit: eShakti
Menswear done right for ladies.
Image Credit: Target
Baroque without breaking the bank.
Other elements I'd like to incorporate:
A Peter Pan Collar: I think Peter Pan collars are adorable, but I haven't found just the right one for me yet. I haven't even decided whether I want a piece of clothing with this style of collar or whether I want to try it as a collar-style necklace.
Image Credit: Dorothy Perkins
This Peter Pan Collar dress is lovely, and
it's on sale for only $17.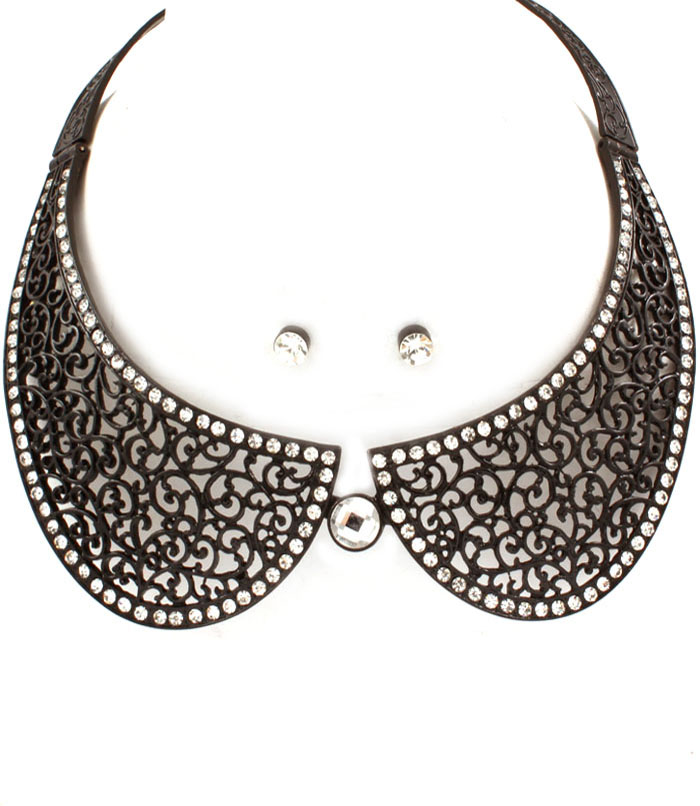 Image Credit: Ava Adorn
This Peter Pan Collar necklace would add interest
to any sweater.
Sequins: I'm planning on going to Las Vegas in a couple months, and I think that will be a perfect opportunity to wear something sequined. I'll be hitting the racks at Goodwill to see if I can find the perfect glittery piece.
Image Credit: Exquisite Finds, Ebay


A red, sequined, leopard dress would be




perfect, but it's Dolce & Gabbana and




$3,995 on ebay.
Image Credit: Target
At $16.99 this skirt is more in my price range.
A Jumpsuit: Am I the only one who likes these? I've mentioned to a few friends that I'm looking for a jumpsuit and they've all given me some side-eye for it. When I told my mom that I wanted to try a jumpsuit I discovered that she loved them in the 80s. That explains it. It must be genetic. I found a likely candidate at Target last week, now I'm trying to decide if I have the charisma, uniqueness, nerve, and talent to wear it.
To keep or not to keep?
Chevrons: Chevrons are probably out of style by now, but I'm still looking for something wonderful with a chevron print.
A Red Dress: I've never had the confidence to really rock a red dress, but I feel like I'm finally at a place that I could do it. Now I just need to find the right dress. Maybe a red sequined dress...
(Sorry to anyone who gets my blog in Google reader and saw the unfinished version of this post last week. My overly-clicky mouse finger hit publish well before I was done.)